Moving from independent living to assisted living can be a significant decision for older adults and their families. It often involves weighing the benefits of maintaining independence against the need for additional support with daily activities and medical care. Understanding the right time to make this transition can help ensure an improved quality of life and better overall well-being.
There are several indications that it may be time to consider assisted living. Some of the most common factors include worsening medical conditions, increased difficulty with activities of daily living (ADLs), and changes in social needs that cannot be met in an independent living situation. By recognizing these signals and initiating conversations about the transition early on, older adults and their families can navigate the decision-making process more smoothly and find the right assisted living community to meet their needs. Read this article in order to know when to move from independent to assisted living.
Assessing The Needs
When considering a move from independent living to assisted living, it's important to assess the needs of the individual. In this section, we will discuss two key aspects to consider: physical health and cognitive health.
Physical Health
Physical health plays a significant role in determining the appropriate level of care for an individual. Factors to consider include mobility, ability to perform activities of daily living (ADLs), and chronic medical conditions. Assessing physical health can help determine if the person requires additional support and care to maintain a good quality of life.
Some common physical health factors to consider include:
Difficulty walking or using a wheelchair
Chronic pain or discomfort
Decreased strength or balance
Difficulty with self-care activities, such as bathing or dressing
Managing medications and medical appointments
Cognitive Health
In addition to physical health, cognitive health should also be evaluated when determining the need for assisted living. This includes assessing memory, decision-making abilities, and behavioral changes. Cognitive health assessment is essential to ensure that the individual's living environment is safe and supportive.
Some important cognitive health factors to consider are:
Memory loss or confusion
Difficulty with problem-solving or decision-making
Wandering or getting lost in familiar places
Changes in personality or behavior
Difficulty managing finances or household tasks
By assessing both physical and cognitive health, you can make an informed decision about when and if a move to assisted living is the right choice.
Evaluating The Options
As you consider making the transition from independent to assisted living, it's essential to evaluate various aspects to ensure a comfortable and satisfactory move. In this section, we will discuss the types of assisted living facilities available and the cost and payment options to consider during the decision-making process.
Types Of Assisted Living Facilities
There are several types of assisted living facilities, each offering different levels of care and amenities. Here are the most common types:
Assisted Living Communities: Provide assistance with activities of daily living, medication management, and social activities. They typically offer private apartments, communal dining, and various recreational amenities.
Personal Care Homes: Smaller residential options that provide personal care services, meals, and medication management in a homelike environment.
Memory Care Communities: Specialize in providing care for individuals with Alzheimer's, dementia, and other memory-related conditions. These communities offer a secure environment, structured activities, and a higher staff-to-resident ratio.
Continuing Care Retirement Communities (CCRCs): A blend of independent living, assisted living, and skilled nursing facilities on a single campus, giving residents the convenience of transitioning between levels of care as needed.
When evaluating these options, consider your loved one's current and anticipated care needs, personal preferences, and desired location. Touring potential communities and speaking with current residents can also provide valuable insights.
Costs And Payment Options
Assisted living facilities can vary significantly in cost, depending on the level of care required, geographic location, and additional amenities offered. Some of the primary payment options include:
Private Pay: Individual savings, pension, or investments can be used to cover the cost of assisted living.
Long-term Care Insurance: If the policy includes assisted living coverage, it can help pay for a portion of the costs. Be sure to review the policy's terms and conditions to understand benefits and limits.
Veterans Benefits: Veterans with a service-connected disability or those receiving a VA pension may be eligible for financial assistance through the Aid and Attendance program.
Medicaid: Medicaid may cover assisted living costs for eligible individuals. However, the availability and requirements vary by state.
Considering and comparing the costs of various assisted living facilities and exploring all available payment options will ultimately help you make a well-informed decision for your loved one.
Timing The Transition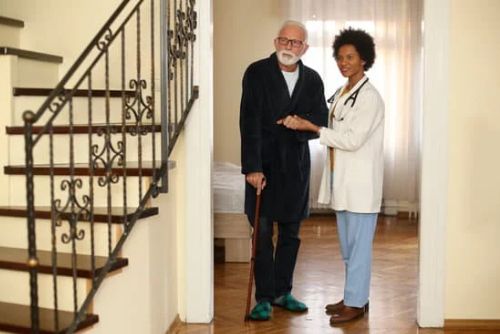 Warning Signs
Recognizing the warning signs that indicate it's time to move from independent living to assisted living is important. One common sign is the inability to manage health, hygiene, household responsibilities, or medications. This can manifest through neglected household chores, poor personal hygiene, and inadequate health care management.
Frequent falls and safety concerns are also worth noting. Changes in behavior, social isolation, and memory problems can signify that the senior requires additional care and support, which can be provided by assisted living facilities. These warning signs should be taken into consideration if you are thinking of when to move from independent to assisted living.
Planning Ahead
Transitioning from independent living to assisted living requires careful planning. Begin the conversation early with your loved one and explore available options. Involve the senior in the decision-making process to ensure they feel comfortable with the choice. Research various facilities, amenities, and support services to find the best match for your loved one's needs.
When planning the move, consider the following steps:
Discuss the changes and expectations with your loved one
Involve the family and seek their input
Visit potential facilities and assess their suitability
Review legal and financial aspects of the transition
Prepare your loved one for the emotional changes they may experience
Being well-prepared for the transition will help make it a smoother and more positive experience for everyone involved.
Preparing For The Move
Choosing A Facility
When deciding on an assisted living facility, it's essential to consider factors such as location, services, and cost. Research multiple facilities, and if possible, schedule in-person visits to determine if they meet your specific needs and preferences. According to Genworth's 2021 Cost of Care survey, the median yearly cost for an assisted living community is $54,000, so it's vital to factor in long-term affordability.
Downsizing And Organizing
Before the move, it's necessary to downsize and organize your belongings. Start the process early and go through your possessions one room at a time. While reviewing your items, divide them into categories such as "keep," "donate," "sell," or "discard." Leisure Care suggests starting with the easiest room to gain momentum and focusing on determining the fate of each item, rather than packing immediately.
When figuring out what to bring with you to the assisted living facility, consider the size of your living space and the items that will make your accommodations feel like home. It might be helpful to create a moving to assisted living checklist, which can provide guidance on essential things to pack and minimize the stress of the move.
Once you've determined what items will be included in the move, it's time to begin packing. Label boxes clearly to make the moving and unpacking process smoother. You might also consider enlisting the help of friends or family members to assist with packing and organizing.
Adjusting To Assisted Living
Emotional Adaptation
Moving from independent to assisted living can be a significant life change for seniors. Acknowledging their emotions during this transition is essential. It is vital to recognize what your loved one has left behind by moving to a new environment, such as their home, neighborhood, and perhaps long-standing friendships.
In order to help with emotional adaptation, encourage open communication and provide emotional support. Offering reassurance that they made the right decision can alleviate concerns and uncertainties.
Social Integration
Another significant aspect of adjusting to assisted living is social integration. Building new connections and friendships is essential for a smooth transition. Encourage your loved one to participate in community activities and events as it allows them to meet new people and build relationships.
It is also essential to maintain existing relationships with family and friends. Regular visits, phone calls, and video chats can help seniors feel connected to their previous social circle while also fostering new connections.
Additionally, consider these tips for easing the transition to assisted living:
Visit communities early to find the right fit.
Gradually downsize belongings to minimize the feeling of loss.
Value mental health by discussing any concerns or anxieties they may have.
Final Thoughts
It's important to always consider when it's time to make the decision to move from independent to assisted living. Each lifestyle has its own pros and cons. Which is why you should consider utilizing the advice mentioned above to ensure you and your family make the right choice. After reading this article, you now have ideas on when to move from independent to assisted living.