Memory care is a type of long-term care that is designed to meet the needs of people with Alzheimer's disease, dementia, and other types of memory impairments. Memory care facilities provide a safe and structured environment with around-the-clock supervision and security. While memory care is similar to assisted living in many ways, there are some key differences. Memory care facilities usually have a smaller staff-to-resident ratio, as well as more specialized staff who are trained in dealing with memory impairments. If you're considering memory care for yourself or a loved one, read on to learn more about what it is and how it can help. After reading our article you will understand what is memory care.
What Is Memory Care And Why Seniors Require Long-term Care
Memory care facilities offer a higher level of assistance than traditional assisted living facilities, and they often provide additional services and amenities that are geared toward supporting cognitive function. These can include things like brain games and activities, specialized dining options, and around-the-clock supervision. Memory care facilities may also offer physical therapy and other services that can help slow the progression of dementia.
How Memory Care Helps Loved Ones With Dementia
Memory care facilities often have special features and amenities that are designed to help residents with dementia thrive. For example, many memory care facilities offer secure outdoor spaces where residents can safely wander and explore. Other common features include life-enrichment activities, such as music therapy, that are specifically tailored to the needs of people with dementia.
The staff at memory care facilities receive specialized training in how to best support residents with dementia. They understand the unique challenges that come with the condition and are equipped to provide the high level of care and assistance that residents need.
If you're considering memory care for a loved one with dementia, it's important to choose a facility that feels like home. Look for a facility that is clean, well-lit, and has plenty of space for residents to move around freely. It's also important to choose a facility that offers the types of activities and amenities that will appeal to your loved one.
Difference Between Memory Care And Assisted Living
There are a few key differences between memory care and assisted living. It's important to notice the difference from what is memory care is a specialized type of care that is designed specifically for people with Alzheimer's disease, dementia, and other forms of memory loss. Assisted living generally provides a more general level of care for seniors who need help with activities of daily living such as bathing, dressing, and eating.
Memory care facilities usually have a higher staff-to-resident ratio than assisted living communities, and they often offer 24-hour supervision and security. Memory care also typically includes structured activities and therapies designed to improve cognitive function and delay the progression of memory loss. In contrast, assisted living generally offers a more relaxed atmosphere with less structure and fewer services.
Another difference between memory care and assisted living is that memory care is typically much more expensive than assisted living. This is because memory care requires more staff and resources to provide adequate care and support for residents.
What Are The Benefits Of Memory Care
There are many benefits to memory care, including:
1. Improved quality of life: Memory care can help improve the quality of life for those with Alzheimer's disease or other forms of dementia.
2. Increased socialization and interaction: Memory care can provide opportunities for socialization and interaction with others, which can help reduce feelings of isolation and loneliness.
3. Enhanced safety and security: Memory care can offer a safe and secure environment for those with memory impairments, which can help reduce the risk of accidents and injuries.
4. Improved cognitive function: Some studies have shown that memory care can improve cognitive function in those with Alzheimer's disease or other forms of dementia.
5. Enhanced physical health: Memory care can also help improve physical health by providing opportunities for exercise and activity, which can help maintain strength and mobility.
How To Locate The Best Memory Care Facilities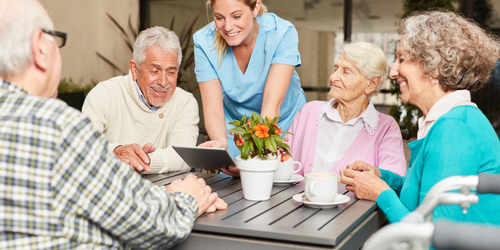 When you or a loved one begins to experience memory issues, it can be difficult to know how to get the best possible care. Memory care facilities are specially designed to provide care for those with Alzheimer's disease, dementia, and other cognitive impairments. Here are some tips for finding the best memory care facility for your needs.
1. Talk to your doctor. Your primary care physician can help you understand your options and make referrals to memory care facilities in your area.
2. Research facilities online. Once you have a list of potential facilities, take some time to read reviews and learn more about each one.
3. Schedule visits. Once you've narrowed down your choices, schedule visits to each of the top contenders. This will give you a chance to see the facility firsthand and meet with staff members.
4. Ask questions. When touring a facility, be sure to ask lots of questions about services, staff qualifications, safety procedures, etc. You want to be sure that you feel comfortable with the facility and that it will meet the needs of your loved one.
5. Get input from your loved one. If possible, involve your loved one in the decision-making process. They may have specific preferences or requests that should be taken into account when choosing a memory care facility
Conclusion
Memory care is the perfect solution for your loved ones with ailing mental health. Memory care services typically provide more supportive care than traditional assisted living. You want to ensure the memory care facility has a solid reputation for exceptional care of its members. Now you should have a detailed understanding of what is memory care and how it can benefit your loved ones.
FAQs
Can Couples Live Together In Memory Care?
Couples can live together in memory care facilities if the facility offers that level of services. When a loved one is placed in memory care the overall health of the patient plays a critical role in couples living together in memory care facilities.
How Long Can Someone Live In Memory Care
Someone can live a long and health live in memory care. It is not only the elderly that suffer from memory loss. There are patients that younger and may require memory care services. Living in a memory care facility doesn't mean that the patient will have a short time to live.
How Much Do Memory Care Facilities Cost In Florida?
The Median cost of a memory care facility in Florida is estimated at $5,000 a month. However, if the patient requires additional assistance, the cost of the memory care facility in Florida would be significantly higher.
How Often To Visit Spouse In Memory Care?
You should visit your spouse in memory care as often as you can. Loved ones in memory care have a failing memory and it might only get worse. Visiting often can help bring you and your spouse joy.