Discussing the topic of assisted living with a loved one can be a delicate and emotional conversation. It's important to approach the subject with care and understanding, while providing them with accurate information about the benefits of transitioning to an assisted living facility. In this article, you will learn some strategies and tips on how to effectively communicate with your loved one about their potential need for assisted living.
As you begin the conversation, it's essential to consider your loved one's personality, mental and emotional well-being. Determine if it's better to plan well in advance for the move or if waiting too long will create too much anxiety for them source. By taking the time to understand their preferences and feelings, you can create a supportive and comfortable environment for discussing the topic. Remember that clear and honest communication is crucial to help them make the best decision based on their needs and situation. Read this article to know how to tell a loved one they need assisted living.
Recognizing the Signs
Loss Of Independence
As your loved one gets older, you might notice a gradual loss of independence. They may struggle with maintaining their home, self-care, or other essential tasks. Pay attention to changes in your loved one's appearance, such as unkempt hair, untrimmed nails, and poor hygiene. If they are no longer able to keep up with these responsibilities without help, it might be time to consider assisted living.
Cognitive Decline
Cognitive decline can manifest in various ways, including forgetfulness, disorientation, difficulty following conversations, and sometimes even wandering. If your loved one exhibits signs of dementia, it's crucial to discuss the situation with their doctor and consider an assisted living facility that provides specialized memory care.
Difficulty With Daily Activities
Another sign that your loved one might need assisted living is if they struggle to complete daily activities. Look for signs such as:
Unexplained weight loss
Inability to prepare meals or go grocery shopping
Skipping medications or taking them incorrectly
Difficulty maintaining their home, such as not cleaning or doing laundry
Missing appointments or social engagements
If these difficulties persist and impact your loved one's well-being, it's essential to have an honest conversation about assisted living options. Remember to approach the topic with empathy and understanding and provide support throughout the decision-making process.
Understanding Assisted Living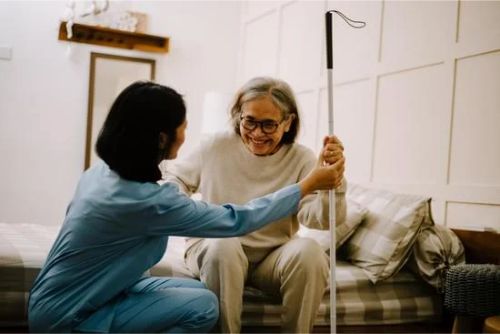 Assisted living is a residential option that provides personal care services for older adults who need help with some activities of daily living. If you find a loved one is struggling to maintain their independence, it may be time to consider assisted living. In this section, we will discuss the benefits and levels of care provided by assisted living facilities.
Benefits
There are several benefits of assisted living for your loved one, including:
Safety: Assisted living facilities are designed to create a safe and secure environment for older adults. They are equipped with safety features such as handrails, grab bars, and emergency call systems.
Socialization: Your loved one will have the opportunity to interact with fellow residents and participate in social events, reducing feelings of loneliness and isolation.
Nutrition: Assisted living facilities provide nutritious meals that cater to their residents' dietary needs and preferences.
Daily assistance: Staff are available to help your loved one with daily activities such as bathing, grooming, and medication management.
Levels Of Care
Assisted living facilities typically offer different levels of care to meet the unique needs of each individual. When evaluating options for your loved one, consider these levels of care:
Basic: Offers minimal assistance with activities of daily living, like meal preparation and housekeeping. This level of care is suitable for individuals who still maintain some independence but might struggle with certain tasks.
Intermediate: Provides additional support with daily activities and personal care, such as grooming and medication management. This level of care may be appropriate for those who need more help with daily tasks but do not require extensive medical assistance.
Advanced: Offers comprehensive care, including medical and nursing services. This level of care is designed for individuals with more complex healthcare needs, like chronic conditions or mobility limitations.
As you learn more about assisted living, it's important to consider the benefits and levels of care that could best support your loved one. Keep these factors in mind as you and your loved one navigate the process of selecting the right assisted living facility.
Senior Living Options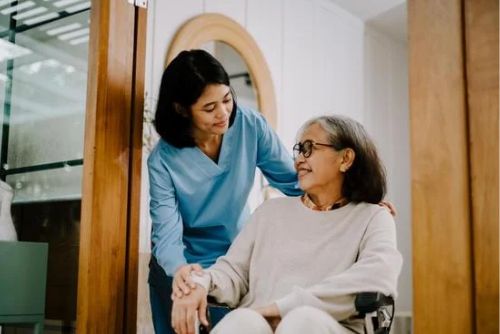 Aging In Place
Aging in place refers to the option for seniors to stay in their own home as they grow older. This option allows you to maintain a sense of independence and familiarity in a comfortable environment. To make aging in place a viable choice, you may need to modify your home to address any mobility or safety concerns. Some modifications could include installing grab bars, widening doorways, or adding ramps for wheelchair access.
In-Home Care
In-home care is a service that provides assistance with daily living activities within the comfort of your own home. This option allows you to maintain a sense of independence while receiving the necessary support for your needs. In-home care might include help with personal care (bathing, dressing, grooming), medication reminders, meal preparation, and light housekeeping.
Medical Alert Systems
A medical alert system provides a safety net for seniors living independently. These systems typically include a wearable device, such as a pendant or wristband, with a button to call for help in case of emergency. When the button is pressed, a monitoring center is alerted, and they can quickly assess the situation and dispatch assistance if necessary. This option offers peace of mind, knowing that help is just a button press away.
Each of these senior living options offers different levels of support and independence. Consider your personal needs and preferences when deciding which option is the best fit for you and your lifestyle.
How to Research Assisted Living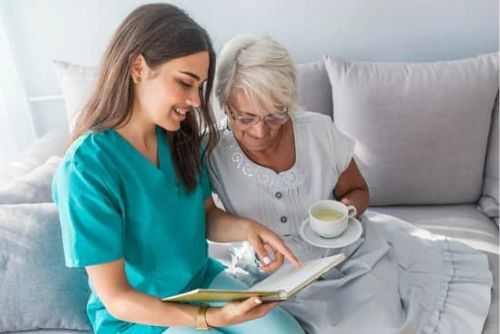 Finding The Best Assisted Living Facility In Florida
When searching for the best assisted living facility in Florida, start by asking for recommendations from friends, family, and healthcare professionals. You can also consult your local or state agency on aging for a searchable database of assisted living facilities. Check the facility's licensing, inspection reports, and possible complaints to ensure quality care for your loved one.
Types Of Facilities
There are different types of assisted living facilities to accommodate various needs. Some offer apartment-style living with scaled-down kitchens, while others provide bedrooms with shared or private bathrooms. In general, assisted living is in a residential-type facility such as converted homes, apartment complexes, or renovated schools. It's essential to know the type of facility your loved one will need for a comfortable living experience.
Touring Options
Once you've narrowed down your options, schedule tours at the assisted living facilities to get a feel of each community. In-person visits will give you a better understanding of the amenities, activities, and overall quality of life offered. Keep the following in mind during your tour:
Observe the staff and resident interactions
Note the cleanliness and safety features of the facility
Inquire about meal plans, medical services, and additional care options
Discuss costs and payment options
Touring multiple facilities will help you find the best fit for your loved one's needs and preferences in an assisted living community.
Addressing Concerns
Socialization
When considering how to tell a loved one they need assisted living, it's important to emphasize the benefits of socialization in these communities. Assisted living facilities often have various social events and activities that encourage residents to interact with one another. This can significantly improve their quality of life and can help alleviate feelings of loneliness and isolation.
Inform your loved one about the scheduled events and common areas where they can meet and engage with others. Encourage them to participate in activities that they enjoy, as well as to try new experiences that can foster connections with fellow residents.
Adjustment Period
Transitioning to an assisted living community will likely require an adjustment period for your loved one. It's essential to support them through this time of change. Here are some tips to help your loved one adjust:
Visit the facility with your loved one before the move, so they can familiarize themselves with the environment and meet potential neighbors.
Help them personalize their living space by adding familiar and sentimental items from home.
Encourage your loved one to participate in the community's activities and events, as this will help them build a social network and adjust more quickly.
Keep in regular contact with your loved one during the initial weeks and months, providing emotional support and reassurance.
Remember that this transition can be an emotional and challenging time for both you and your loved one. But with the right level of support and understanding, they can successfully adjust to their new living situation and begin to reap the benefits of a supportive, engaging, and social community.
The Conversation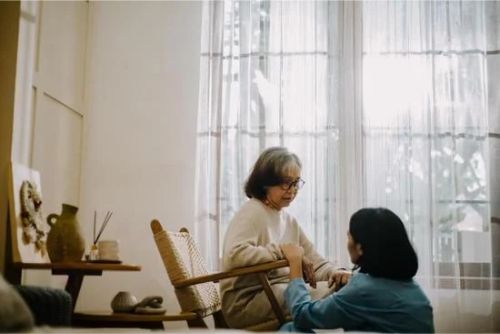 Choose The Right Time And Setting
Selecting an appropriate time and setting for discussing assisted living with your loved one is crucial. Ensure you choose a calm, quiet, and comfortable environment to initiate the conversation. It's best to avoid broaching the topic during times of stress or when emotions are running high. Try to be empathetic and patient, as this is a life-changing decision for your loved one. Make it a point to listen actively and address any concerns they may have about assisted living.
Involve All Relevant Family Members
Involving all relevant family members in the discussion is essential for providing a supportive atmosphere and assuring your loved one that they are not alone in this decision. Coordinate with your siblings or other close relatives to ensure their participation and input in the conversation. By working together, you can collectively offer the emotional support and practical information needed to make this difficult choice more manageable for your elderly loved one.
Remember that each family member may have unique perspectives and insight into the situation; their input can help create a more comprehensive understanding of your loved one's needs. Providing an assisted living solution that respects your loved one's desires and lifestyle will help them feel more comfortable committing to this significant change.
Preparing for the Transition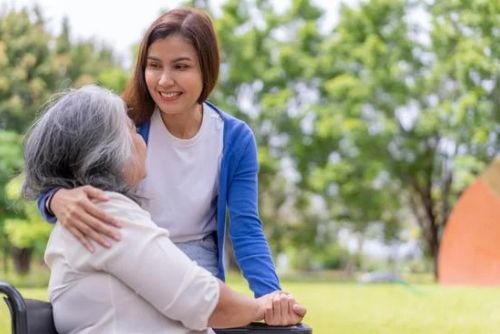 Home Modifications
Before your loved one moves into an assisted living facility, it's important to help them make some home modifications to ensure their safety and comfort. Consider the following:
Install grab bars in bathrooms to help with balance and prevent falls.
Add ramps or stairlifts to assist with mobility.
Replace doorknobs with lever handles for easier use.
Make sure adequate lighting is available in all areas of the home.
Take the time to evaluate the living space and identify potential hazards that may need to be addressed during the transition.
Packing And Organizing
Create a list of essential items your loved one will need in their new assisted living facility.
Carefully sort through belongings and identify items to keep, donate, or discard.
Pack important documents, such as medical records and financial information, in a safe and organized manner.
Label moving boxes clearly with the contents and the room in the facility where they should be placed.
Remember to involve your loved one in the process, as their input and preferences will be crucial in ensuring a smooth and comfortable transition. By taking these steps, you'll help make the move to assisted living as seamless and stress-free as possible for both you and your loved one.
Final Thoughts
When considering how to tell a loved one they need assisted living, always be mindful of their personality and emotions. Planning the conversation well in advance could be beneficial, but ensure that you allow enough time for them to comfortably transition to their new living situation source.
As you discuss the topic, remember that your loved one is an adult, and the conversation should be approached with respect and empathy. Acknowledge their feelings and validate any concerns they might have source.
Explore different assisted living facilities together, and take the time to participate in activities or enjoy a meal at these facilities. Showcasing the social aspects and benefits of assisted living will help your loved one understand the advantages of making this change source.
Moreover, don't hesitate to enlist the support of healthcare professionals or geriatric care managers to assist in determining the appropriate time and need for senior care source.
Always consider your loved one's personal values and preferences during this conversation to make the decision-making process smoother and easier for both you and your family member. Working together with a supportive and understanding approach will ultimately be most beneficial in helping your loved one transition to assisted living.