As we age, it can become increasingly difficult to manage our daily tasks and maintain a healthy lifestyle. Assisted living facilities provide a solution for older adults who need assistance with some activities of daily living, like cooking meals, getting to the bathroom at night, or traveling to appointments. These residential options offer a supportive environment where older adults can maintain their independence and self-reliance while receiving the help they need.
Assisted living facilities play a crucial role in helping elderly individuals maintain their health by offering personalized care plans, professional healthcare services, and various social and recreational activities that cater to their overall well-being. With access to a team of skilled professionals and consistent care, residents can focus on enjoying their golden years without the burdens of managing a household and maintaining their health alone. In this article, we will tackle how assisted living facilities help elderly maintain their health.
Key Takeaways
Assisted living facilities provide personalized care and support for older adults who need help with daily tasks while fostering independence.
A comprehensive range of services, including healthcare, mental health, and social activities, contribute to the overall health of assisted living residents.
Choosing the right assisted living facility can significantly enhance the quality of life and well-being for both the elderly individual and their family members.
Understanding Assisted Living Facilities
Assisted living facilities are residential options designed for older adults who need help with some of the activities of daily living like cooking meals, getting to the bathroom in the middle of the night, keeping house, and traveling to appointments. These facilities provide a combination of housing, personalized care, and support services to ensure seniors maintain their health and well-being.
In assisted living communities, you can expect access to various services such as up to three meals a day, assistance with personal care, help with medications, housekeeping, laundry, 24-hour supervision, security, on-site staff, and social and recreational activities. The goal of these communities is to create a vibrant environment where seniors can enjoy their golden years while getting the assistance they need.
One of the benefits of assisted living facilities is that they provide seniors with social connections and a sense of belonging. These communities often have health and wellness programs, enabling you to stay active, engaged, and healthy. It is worth noting that the specific arrangements and services provided might vary from one state to another.
When evaluating senior living options, it's essential to consider your current needs and any anticipated future needs. Assisted living facilities are best suited for those who require daily help with tasks but don't need the extensive medical care provided in nursing homes. It is crucial to research and visit various senior living communities to find the best fit for you or your loved ones.
Remember that choosing an assisted living facility is a significant decision, so give yourself adequate time to understand the different options and make an informed choice that best suits your needs and preferences.
Health Care in Assisted Living Facilities
Taking care of your health as you age is crucial, and assisted living facilities can play a significant role in maintaining and even improving older adults' health. In this section, benefits of health care services provided by assisted living facilities will be discussed, especially focusing on chronic condition management and medication management.
Chronic Condition Management
Many older adults have one or more chronic health conditions, such as diabetes, heart disease, or arthritis. Assisted living facilities have trained staff that can help you manage these conditions effectively. They assist you in:
Monitoring your health: Regular checkups can help detect any changes or worsening in your condition.
Educating you: The staff informs you about your condition, treatment options, and self-care practices.
Coordinating care: The staff works closely with your health care providers, ensuring your care plan is followed and making adjustments as needed.
Medication Management
Managing medication can be challenging, particularly when you have multiple prescriptions. In assisted living facilities, you can expect:
Safe storage and organization: Your medications are securely stored, organized, and labeled, reducing the risk of confusion or mismanagement.
Timely administration: The staff ensures your medications are administered on time and according to your doctor's instructions.
Monitoring for side effects: The staff keep an eye on any potential side effects or drug interactions, reporting them to your health care providers as needed.
By providing you with professional assistance in managing your chronic conditions and medications, assisted living facilities can significantly improve your overall health and well-being.
Personal Care and Support in Assisted Living Facilities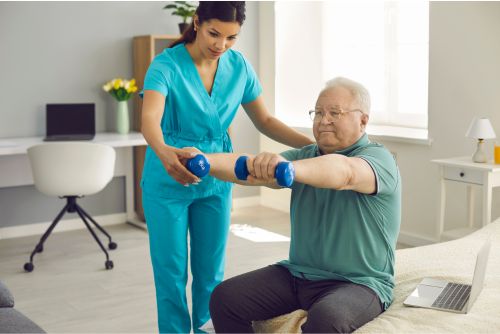 Bathing And Housekeeping
In assisted living facilities, personal care and support services are designed to help you maintain your health and well-being. One of the essential services provided is assistance with bathing and personal hygiene. Staff members are trained to help you with showering, bathing, or sponge baths, ensuring that you feel clean and comfortable.
Housekeeping is another component of personal care in assisted living. Staff members take care of your living space, including cleaning, laundering, and general upkeep. This service allows you to focus on enjoying your daily activities and maintaining your health without worrying about household chores.
Nutrition And Meals
A crucial aspect of maintaining your health in an assisted living facility is having access to nutritious and well-balanced meals. These facilities employ dietitians or nutritionists who plan and oversee the preparation of meals, taking into consideration your unique dietary needs, preferences, and restrictions. This ensures that you receive meals tailored to your health requirements, helping you stay strong and energized.
Assisted living facilities often offer communal dining areas where you can enjoy your meals in the company of other residents. This social aspect of mealtime enhances your dining experience and promotes a sense of community and connection, which is essential for emotional well-being.
Mobility Support
For many elderly people, mobility can become an issue that affects their overall health and independence. Assisted living facilities understand the importance of mobility support and provide assistance with walking, transferring, and getting around your living space. They also work with you to ensure that your living environment is organized and set up to minimize the risk of falls or injuries.
In addition to personal mobility assistance, most assisted living facilities offer transportation services for medical appointments, shopping trips, or social outings. This service allows you to maintain your independence without worrying about navigating public transportation or relying on friends and family for transportation.
Social and Recreational Activities at Assisted Living Facilities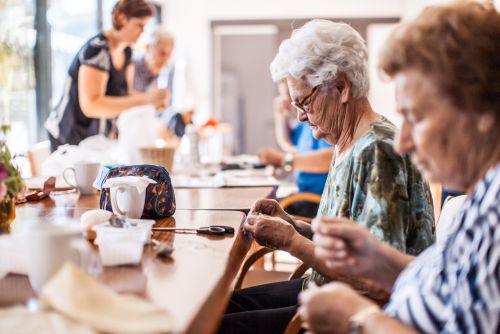 Assisted living facilities play a crucial role in helping the elderly maintain their health, both physically and mentally. One of the ways they achieve this is by providing a wide range of social and recreational activities designed to keep residents engaged and socially connected. These are important factors on how assisted living facilities help elderly maintain their health.
Group Activities And Outings
At many assisted living facilities, you will find a variety of group activities aimed at promoting a sense of community and fostering social connections among residents. Some popular group activities include:
Exercise and fitness classes
Arts and crafts sessions
Movie nights
Card and board game clubs
Themed parties and celebrations
In addition to onsite activities, many facilities organize regular outings to help residents stay connected to their local community. These outings can range from trips to nearby attractions, such as museums, parks, and theaters, to shopping excursions and dining experiences at local restaurants.
Community Connections
Assisted living facilities recognize the importance of maintaining strong links with the broader community. As such, they often create community connections by inviting local organizations, volunteers, and guest speakers to participate in activities and share their expertise with residents. Examples of community connections include:
Intergenerational programs with schools and youth groups
Pet therapy sessions facilitated by local animal shelters
Music and dance performances by community groups
Educational seminars and workshops on topics of interest to seniors
By participating in these social and recreational activities, you can enjoy the benefits of a vibrant, interconnected community within your assisted living facility. These experiences not only contribute to your overall health and well-being but also provide opportunities for personal growth and lasting friendships with fellow residents.
Mental Health Care and Support in Assisted Living Facilities
Dementia And Memory Care
Assisted living facilities provide essential support for seniors experiencing dementia and other memory-related issues. These facilities offer tailored programs designed to help you maintain cognitive abilities and improve your overall well-being. Specialized care staff work closely with you, focusing on communication, personal care assistance, and structured activities that promote mental stimulation. They also create safe environments to minimize the risk of accidents and injuries.
Depression And Loneliness Management
Depression and loneliness are common among elderly individuals, and assisted living facilities address these challenges through various programs. They offer structured social and therapeutic recreational activities to encourage interaction and engagement. These activities might include:
Group exercise classes
Art and craft workshops
Musical events
Educational seminars
Movie nights
Social gatherings
By participating in these activities, you are encouraged to make new connections and establish friendships, reducing feelings of isolation and improving overall mental health. Assisted living facilities also collaborate with mental health professionals to provide counseling and therapeutic support when needed. They help you develop healthy coping mechanisms and offer guidance on managing depression and anxiety efficiently.
Benefits of Assisted Living Facilities for Family Members
Relief And Peace Of Mind
Assisted living facilities not only provide support and care for the elderly residents themselves, but they also offer you, as the family member, a sense of relief and peace of mind. Knowing that your elderly loved one is in a safe and secure environment, with trained professionals assisting them in daily tasks such as personal care and medication management, allows you to focus on other aspects of your life without constant worry. Moreover, many assisted living communities have healthcare services on-site, which means that access to medical assistance is readily available when needed.
Social engagement is essential for mental health, and assisted living facilities often provide numerous opportunities for residents to socialize and participate in various activities. This aspect of companionship at the facility helps improve the overall well-being of your loved one, and it brings you peace of mind knowing they are not isolated or lonely.
Partnerships In Care
Assisted living facilities strive to establish partnerships in care by involving you, the family members, in your loved one's care planning and decision-making process. Through open communication and collaboration, you will be able to contribute to shaping the care plan that best fits your loved one's needs and preferences.
This partnership in care also enables you to maintain a strong relationship with your elderly loved ones while ensuring that they are receiving the support they require. Regular visits, phone calls, and participating in community events at the facility can help foster this connection and further improve the quality of life for both your loved one and yourself.
In conclusion, assisted living facilities offer numerous benefits for family members, including relief and peace of mind that your elderly loved one is receiving appropriate care, as well as the opportunity to form partnerships in care, enabling you to actively participate in their well-being. With these advantages, you can be confident that your loved one's health and happiness are well-cared for.
Choosing the Right Assisted Living Facility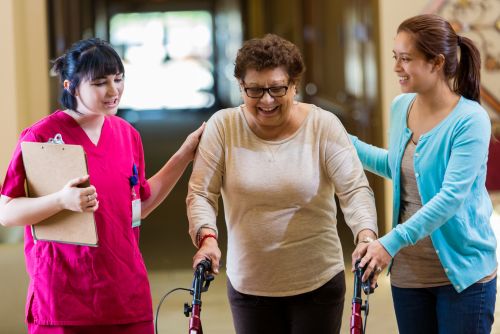 Factors To Consider
When selecting an assisted living facility for yourself or a loved one, it's important to consider the level of assistance needed. This will depend on the individual's ability to perform activities of daily living (ADLs), such as cooking, bathing, and dressing. To ensure a good match, evaluate your needs and preferences – including location, size, and available amenities. We will discuss more details on how assisted living facilities help elderly maintain their health.
Another critical factor to consider is the quality of care provided. You can assess this by:
Researching the facility's reputation, history and licenses
Talking to current residents and their families
Observing the cleanliness and maintenance of the building
Reviewing the staff-to-resident ratio and staff retention rates
In addition to physical care, it's essential to assess the availability of activities and socialization opportunities that can enhance quality of life. Visit facilities during events and activities to see if they align with your interests and preferences.
Getting A Referral
A referral from a trusted healthcare professional can alleviate some of the stress associated with choosing an assisted living facility. They have likely had experiences with a variety of local facilities and can provide insight into their strengths and weaknesses.
You can also ask for recommendations from friends and family members who may have already faced a similar decision. Online resources, such as U.S. News & World Report's Best Assisted Living, offer valuable information on facilities in your area.
Remember, the goal is to find an assisted living residence that supports your health and well-being, while also promoting independence and a sense of community. By carefully considering your needs and gathering referrals, you can confidently select a facility that will deliver the care and support you deserve.
Frequently Asked Questions
What Are The Benefits Of Assisted Living For Seniors' Overall Health?
Assisted living facilities provide a safe environment for seniors, offering support with daily activities and basic healthcare services. This helps in maintaining their physical and mental health, as they have access to nutritious meals, exercise programs, and medication management. Additionally, these facilities provide a balance of independence and personalized care, allowing seniors to maintain their dignity and self-esteem.
How Do Assisted Living Facilities Aid In Seniors' Social Well-Being?
Social interaction is crucial for seniors' mental and emotional health. Assisted living communities encourage social connections by offering various activities and events, such as group outings, educational programs, and hobby classes. This enables residents to make friends, engage in conversations, and enjoy their time with like-minded individuals. These social interactions can help alleviate feelings of loneliness and improve overall well-being.
What Is The Difference Between Assisted Living And Nursing Home Care?
While both options cater to the needs of seniors, there are key differences. Assisted living is designed for those who require help with daily activities but do not need round-the-clock medical care. Nursing homes, on the other hand, provide a higher level of medical supervision and care for individuals with serious health conditions or those needing 24/7 assistance.
How Do Assisted Living Facilities Support Elderly Individuals With Medicaid?
Some assisted living facilities accept Medicaid, which can help cover the cost of care. However, eligibility and coverage may vary by state and facility. It's essential to research and ask questions about each facility's Medicaid policies before selecting one. To get started, you can contact your state's Medicaid office or speak with a local elder care expert.
What Factors Do Seniors Need To Consider When Choosing An Assisted Living Facility?
When researching assisted living facilities, consider essential factors such as location, cost, services provided, staff qualifications and ratios, meal options, and the facility's atmosphere. Additionally, look into their Medicaid policies (if necessary), and observe residents' interactions during your visit to the facility.
How Can Assisted Living Communities Facilitate A Smooth Transition For Elderly Individuals?
Transitioning to assisted living can be challenging for seniors, but there are ways to make it smoother. To start, involve your loved ones in the decision-making process and discuss their preferences. Once a suitable facility is chosen, encourage them to participate in community activities and events to build connections with fellow residents. Finally, be patient and provide emotional support during the transition. Regular visits and communication can help your loved ones adjust and settle into their new environment more comfortably.